North Carolina's Clean Energy Plan Envisions Carbon-Free Power Sector by 2050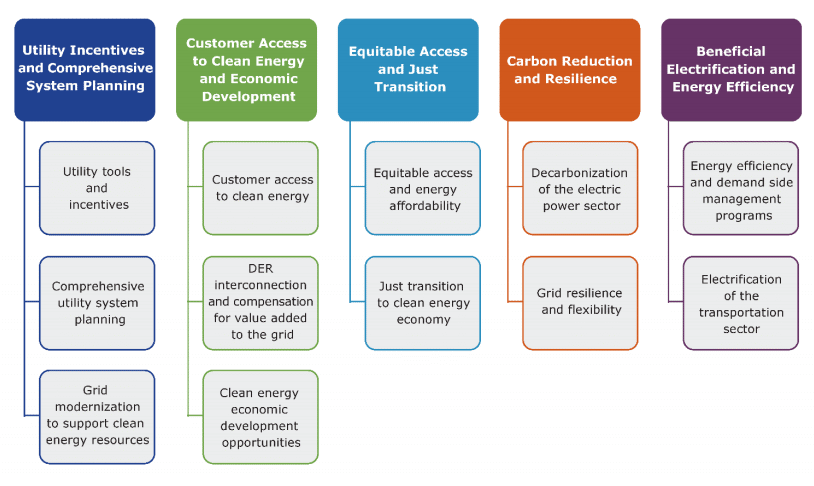 The North Carolina Department of Environmental Quality on Aug. 16 unveiled a draft Clean Energy Plan outlining policy and action recommendations for the state to transition to carbon-free electricity by 2050, starting with a 60 to 70 percent reduction from 2005 levels by 2030.
An executive order issued last year by Democratic Governor Roy Cooper tasked the department with creating a plan to encourage the use of clean energy resources and technologies and foster the development of a resilient electricity system.
The draft includes priority recommendations and strategies to achieve the goals of accelerating clean energy innovation, fostering long-term energy affordability and price stability, and working towards zero-emissions power.
The priority recommendations call for:
Tools that better align utility incentives with public interest, state energy and carbon policy, and grid needs;

Non-energy equity-focused costs and benefits in decisions regarding resource needs, program design, cost-benefit analyses, and facility siting;

Utility system planning process that connects resource, transmission, and distribution planning, as well as cost-benefit methodologies to include societal and environmental factors in decisions about resources and programs;

Setting electricity sector carbon reduction goals in policy and legislation, and conducting a study on the most cost-effective pathways to reach the goals;

Rates that provide accurate price signals to demand side resources about costs and value to the grid;

Establishing an Energy Efficiency Advisory Council to oversee implementation of the EE Roadmap recommendations;

Innovative rate design pilots for electric vehicles to encourage off-peak charging and test how rate structures shift customer usage of the grid, and boost EV adoption.
Coal, natural gas and nuclear power plants generated about 90 percent of North Carolina's power in 2017. The Renewable Energy and Energy Efficiency Portfolio Standard, North Carolina's energy tax credits, and the federal solar tax credit led to the state being ranked second in the nation for installed solar photovoltaic capacity. The state subsidy for solar PV expired in 2015 and the federal tax credit is scheduled to expire in 2021.
The next phase of growth in the clean energy sector will be determined by the Competitive Energy Solutions for NC, enacted in 2017, creating new programs for competitive renewable procurement, solar rebates and leasing, community solar, and renewable energy-relates studies. The requirements of the law could lead to the addition of about 4 gigawatts of solar by 2025, essentially doubling the 2017 capacity, according to the draft plan.
Comments are due by Sept. 9.