Ohio Legislators Seek Reconsideration of Restrictions on Nation's First Freshwater Offshore Wind Farm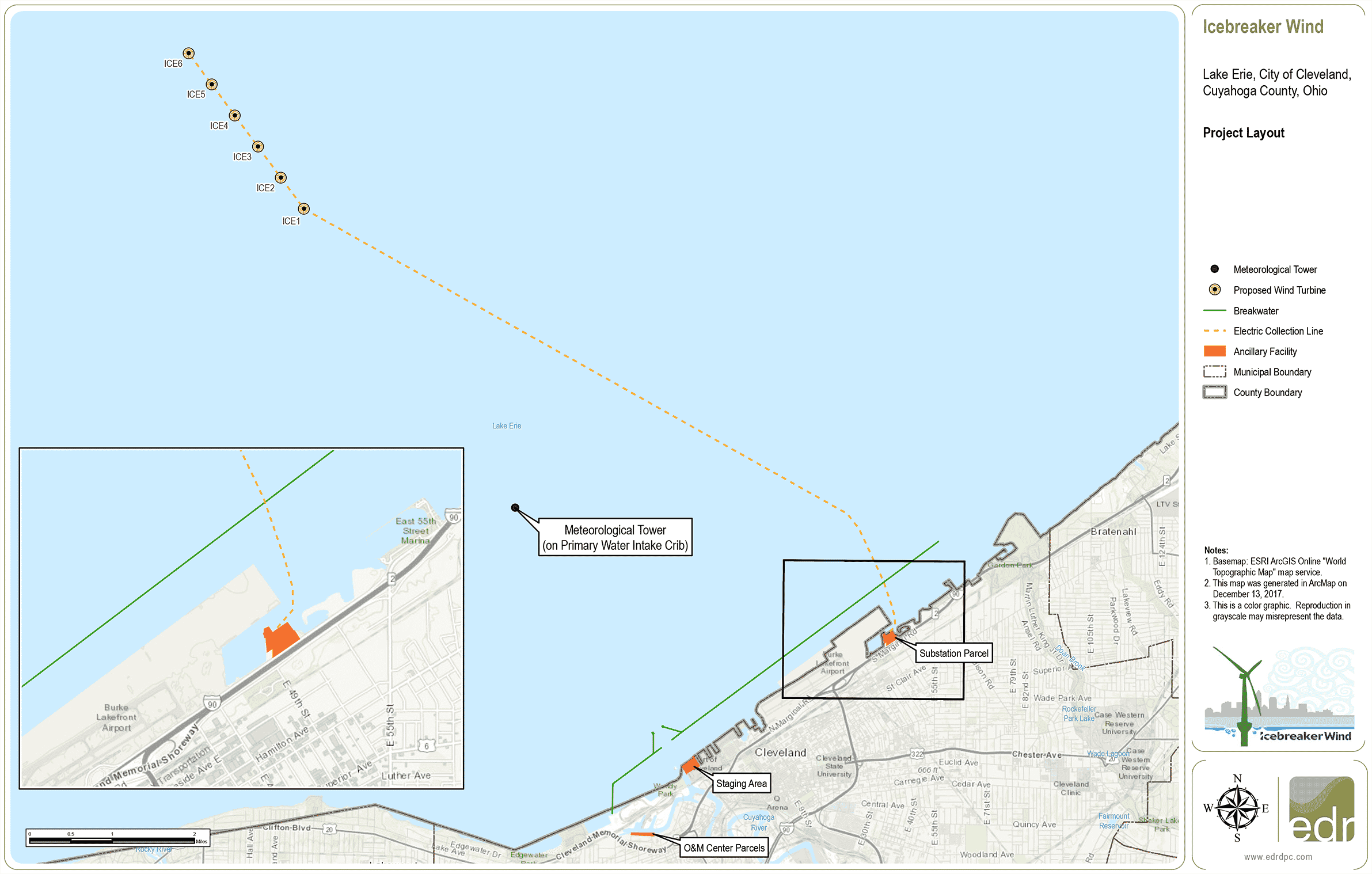 A bipartisan group of 32 legislators from Ohio asked the state's Power Siting Board to reconsider the restrictions imposed on Icebreaker Wind Inc.'s 20.7- megawatt offshore wind project in Lake Erie, according to a July 29 press release. The construction certificate, issued in May, includes a condition that the turbines remain feathered during nighttime hours for eight months of the year, in order to mitigate the impacts on birds and bats. The order disappointed the project developers, who said that the shutdown condition renders the project financially unviable and also reneges on the agreement reached with the board staff last year. The legislators said they were puzzled that the board re-inserted the condition which its own staff deemed unnecessary to meet the statutory standard and urged the board to grant the developer's request for reconsideration and remove the "poison pill" provision.
Lake Erie Energy Development Corporation (LEEDCo), an Ohio-based nonprofit, in collaboration with Fred. Olsen Renewables, a Norwegian company, formed Icebreaker Wind, which is developing the project. The project developer highlighted that the nuclear subsidy scandal in the state gives additional cause for reconsideration given that fossil fuel interests opposed the innovative project.
The shutdown condition deprives the developer of the revenue stream that it needs to repay a construction loan and also contradicts the evidence, which the staff and the Department of Natural Resources relied on to endorse the project. While the order calls for "zero impact" during the night for eight months, the statutory standard requires "minimum impact," taking into account project economics and technology. Further, the legislators explained that the order unlawfully requires separate approvals for construction and nighttime operation as the siting board certificate, by law, applies to both construction and operation.
The letter also pointed out that the state has "patiently awaited the approval" of the wind farm for over a decade and the innovative project must be approved without onerous conditions to reap its economic and environmental benefits.
Icebreaker is expected to yield $250 million to the local economy and create more than 500 jobs in the emerging offshore wind industry. The project has received approvals from the Ohio Environmental Protection Agency, U.S. Army Corps of Engineers, and U.S. Fish and Wildlife Service.