INSIGHTS

SERIES
Power & Utilities | Retail Power
June 17, 2019
Regulatory evolution for a decentralized electric grid: State of performance-based ratemaking in the U.S.
---
An unprecedented number of states are upending how retail power rates are set as utility revenues get squeezed by the surge in distributed generation, like rooftop solar panels, and as providers face bold environmental mandates to address climate change.
Nineteen states and the District of Columbia are exploring or have adopted performance-based rate programs through legislation or regulatory initiatives since 2015, according to data from state utility commissions compiled by EnerKnol. The alternative ratemaking links utility revenues to environmental performance and quality of service, marking a break from the decades-long approach of tying rates to the amount of capital invested in the distribution system.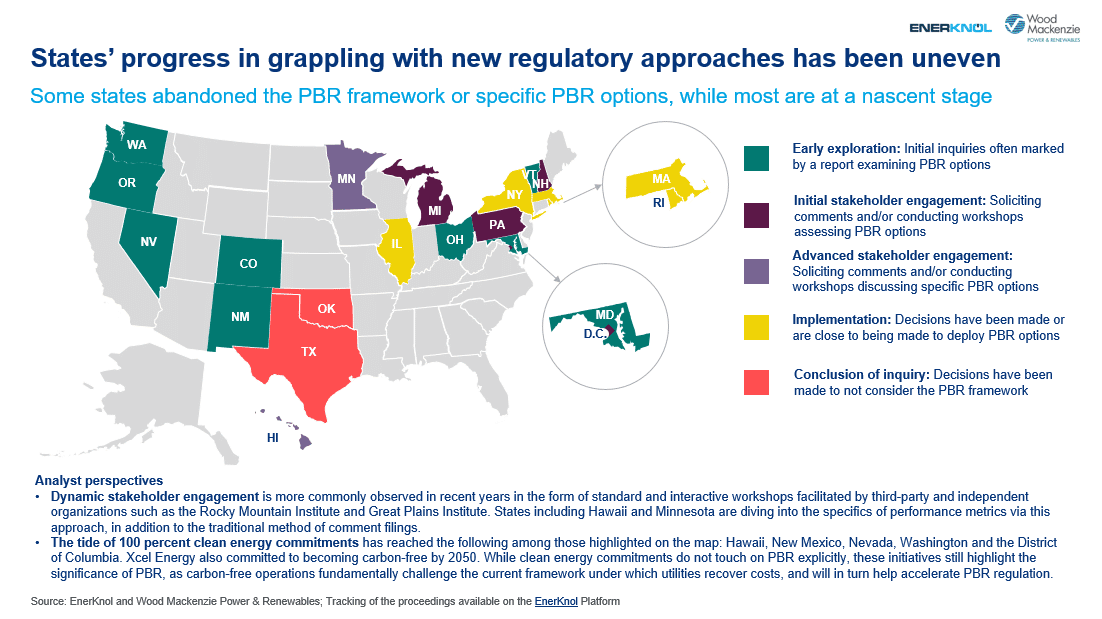 This report focuses on PBR activity since 2015 at state utility commissions and utilities. It examines the drivers behind PBR activity at varied stages, looks at regulatory tools for commissions, and analyzes the progress in determining performance metrics and incentives.
Key Figures
Early exploration
CO, MD, NV, NM, OH, OR, WA, VT
Recent regulatory developments
MD, NM, NY, OH, OK, TX, VT
Recent legislation prompting regulatory developments
HI, IL, MI, NH