TVA Plans to Add Up To 14 Gigawatts of Solar Over 20 Years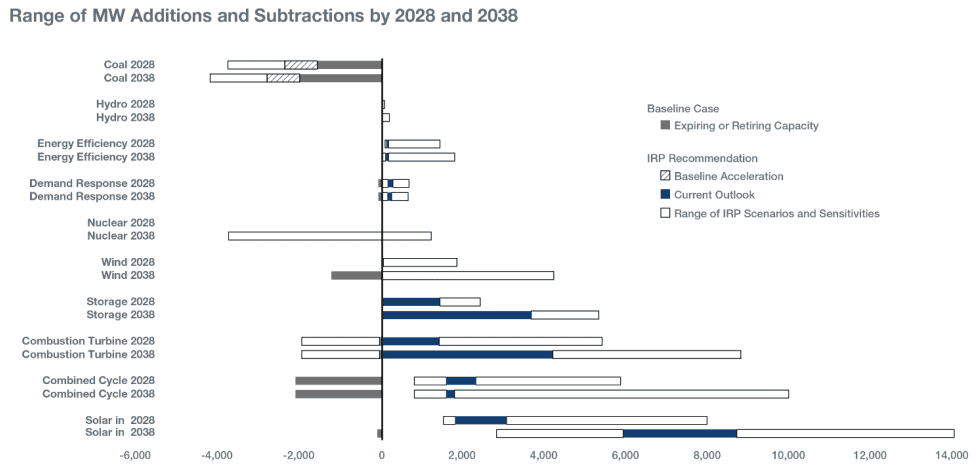 The Tennessee Valley Authority on June 28 released its 2019 integrated resource plan, which calls for up to 14 gigawatts of new solar and 5.3 gigawatts of battery storage to meet the electricity needs of the seven-state region through 2038. The utility said that the plan is designed to facilitate a more flexible power generation system to accommodate the growing levels of renewable and distributed energy resources while ensuring reliability.
TVA will continue its plans to retire the Paradise coal plant in 2020 and Bull Run facility in 2023. The IRP proposes to evaluate retirements of up to 2.2 gigawatts of additional coal capacity if cost-effective and up to 2 gigawatts of existing gas combustion turbines.
The IRP expects to add over 18 gigawatts of natural gas capacity over the 20-year horizon, including up to 8.6 gigawatts of combustion turbines and 9.8 gigawatts of combined cycle plants by 2038.
TVA envisions up to 2.2 gigawatts of energy efficiency and 500 megawatts of demand response additions. With regard to wind, the utility will consider the addition of up to 4.2 gigawatts by 2038 if cost-effective. Existing wind contracts expire in the early 2030s.
The Sierra Club commended the transition away from coal, but criticized the plan for relying too heavily on gas and being light on energy efficiency. The group called for "an energy future that doesn't trade coal for gas," which exposes customers to a volatile market and aggravates climate concerns.
The Southern Alliance for Clean Energy questioned the usefulness of TVA's recommendation, saying that the utility lumped all the possible portfolio's together to provide a broad range for each resource rather than selecting one or a combination of the results. The group criticized the plan for "underwhelming investment in energy efficiency and renewables," and lack of transparency.
As of last year, TVA's generation portfolio consisted of 39 percent nuclear, 26 percent natural gas, 21 percent coal, 10 percent hydro, and 3 percent wind and solar. The new resource plan updates TVA's 2015 IRP in response to continuing changes in the utility industry brought about by the glut of low-cost natural gas, falling renewable generation costs, and a growing focus on energy efficiency. 
TVA's board will vote on the proposed plan on August 22.