U.S. Added Over 31 Gigawatts of Electric Generating Capacity in 2018, Largest in 15 Years: EIA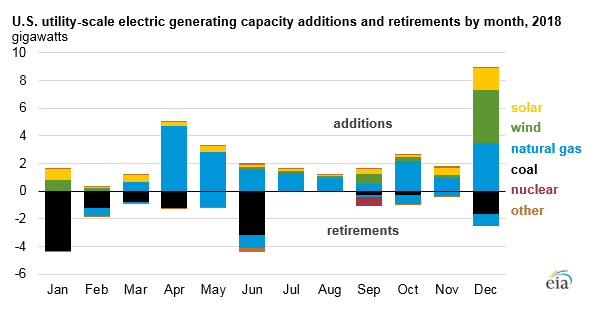 The U.S. added 31.3 gigawatts of generating capacity in 2018, the largest since the 2003 capacity addition of 48.8 gigawatts, according to a March 11 report from the Energy Information Administration. Natural gas accounted for 62 percent of utility-scale additions, while wind and solar photovoltaic represented 21 percent and 16 percent, respectively. Coal accounted for 69 percent of the 18.7 gigawatts that retired last year.
Pennsylvania accounted for almost 25 percent of the natural gas-fueled additions last year, while Maryland, Virginia, and Florida had a combined share of about 30 percent.
More than 60 percent of the 6.6-gigawatts of wind capacity that came online in 2018 was installed in Texas, Iowa, and Oklahoma.
California, Florida, and North Carolina together added about 60 percent of the 4.9-gigawatt utility-scale solar photovoltaic installations last year.
About 93 percent of the 4.7 gigawatts of natural gas-fired capacity retired was from steam and combustion turbine units, which are less efficient technologies that typically operate at lower capacity factors than combined-cycle units.
New Jersey was the only state to retire nuclear capacity, the 600-megawatt Oyster Creek plant that closed in September 2018.
---
Enerknol Pulses like this one are powered by the Enerknol Platform the first comprehensive database for real-time energy policy tracking. Sign up for a free trial below for access to key regulatory data and deep industry insights across the energy spectrum.
ACCESS FREE TRIAL