U.S. Coal Exports Fell By 20 Percent in 2019 Amid Downturn in Global Demand: EIA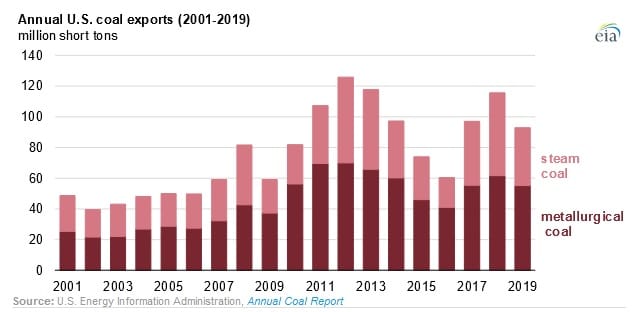 U.S. coal exports dropped to 93 million short tons last year, a 20 percent decline from 2018, according to a March 18 report from the U.S. Energy Information Administration. Exports of steam coal fell by 30 percent while metallurgical coal saw a moderate decline of 12 percent.
In 2019, the biggest importers were India, Japan, Netherlands, Brazil and South Korea, which accounted for 53 percent of the total amount.
India received 8.1 MMst of steam coal from the U.S, making it the largest destination for U.S. shipments for the third year in a row in 2019.
Japan's coal consumption is almost evenly split between steam and metallurgical coal, and the country's imports remained steady at 2018 levels despite a 5 percent decline in its steel production.
Netherlands, the third largest destination for U.S. shipments, is the primary transshipment hub for the rest of the European Union, and last year, most of the country's imports from the U.S. were shipped to Germany.
Despite the decline in exports to some of the largest U.S. coal-importing nations, growth in smaller power markets rose in 2019. U.S. steam coal exports to Egypt increased by 28 percent during 2019, largely for cement production.