U.S. Interior Issues Final Review for Wyoming's Carbon Dioxide Pipeline Initiative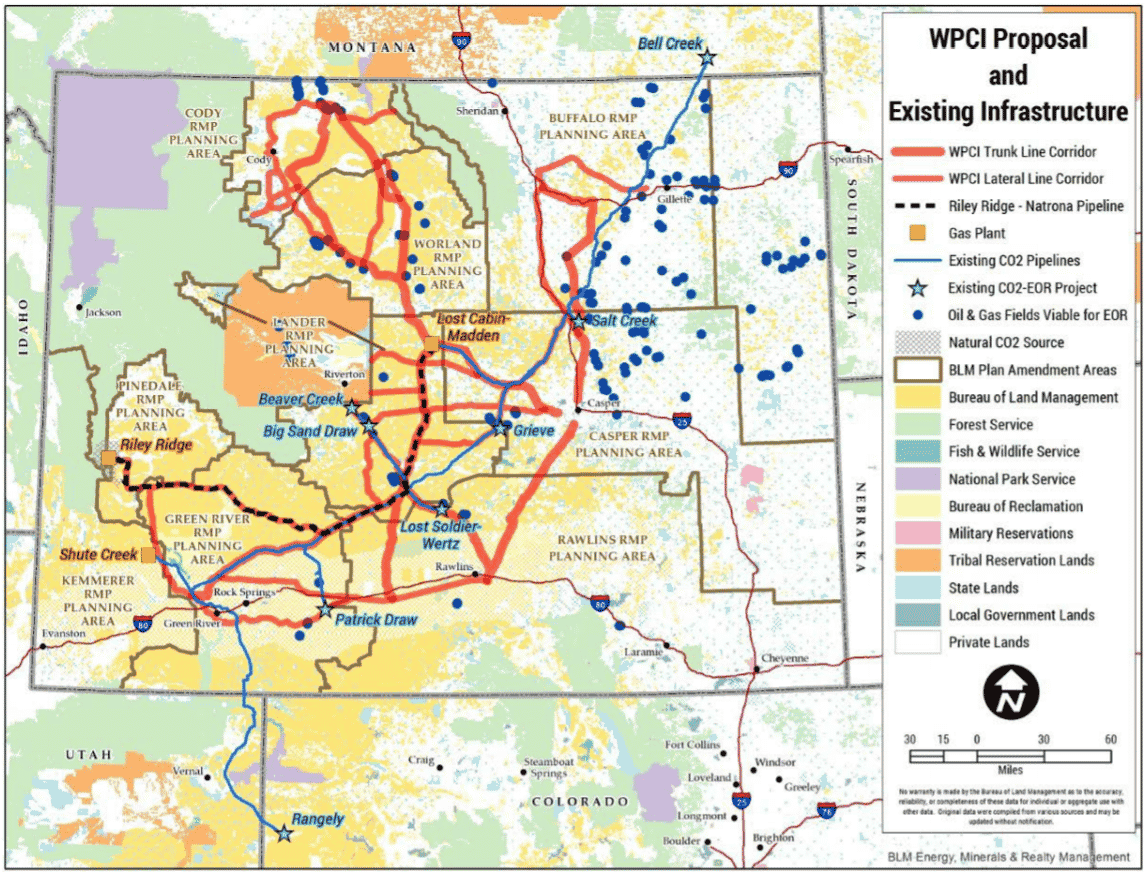 The Bureau of Land Management released its final environmental assessment of the Wyoming Pipeline Corridor Initiative, which seeks to designate nearly 2,000 miles of pipeline corridor network for projects associated with carbon capture, utilization and storage, as well as enhanced oil recovery, or EOR, by developing infrastructure connecting to existing oil fields within the State of Wyoming.
The project, proposed by Wyoming, encompasses pipeline corridors across private, state, and BLM-managed lands within the state. The state held meetings with federal, state, county, and private landowners over several years to determine the placement of 25 segments that make up the proposed corridors. The preferred alternative namely, "Alternative E" combines the uniqueness of the segments with the current resource management plan, as well as specific siting, resource conflicts, restrictions, and other issues identified in the robust analysis of the initiative. The project will not authorize new pipelines or construction but may amend some of the agency's resource management plans covering 1,111 miles of energy corridors located on public lands.
The initiative would result in a system of corridors that is integrated with the BLM's existing network for pipeline projects that transport carbon dioxide and EOR products and for other compatible uses on public lands across Wyoming. The project is expected to reverse the downward trend of declining oil production by stimulating economic development through EOR projects that can store large quantities of carbon dioxide, which is a purchased commodity and is recycled continuously in the reservoir rather than vented to the atmosphere. The initiative would connect oil fields that are good candidates for EOR with sources of carbon dioxide. BLM expects these projects to add value by maximizing oil recovery from existing, previously disturbed fields, while also "offering a bridge to a reduced carbon emissions future." Currently, there are more than 90 potential fields suitable for "CO2 flooding with recoverable reserves" in excess of 1.5 billion barrels, according to the agency.
BLM notes that the designation of corridors would streamline environmental reviews of potential projects proposed within the corridors as the National Environmental Protection Act documents could tier to this analysis. Although carbon dioxide sources within Wyoming are abundant, the agency said that the limited network and capacity of pipelines pose constraints.
The BLM action aims to designate corridors for the preferred location of future pipelines associated with the transport of carbon dioxide, EOR products, and other compatible uses, and to incorporate the designated corridors into the agency's resource management plans within Wyoming.