Utility Regulators Approved Total Electric Rate Increase of $2.8 Billion Last Year: EIA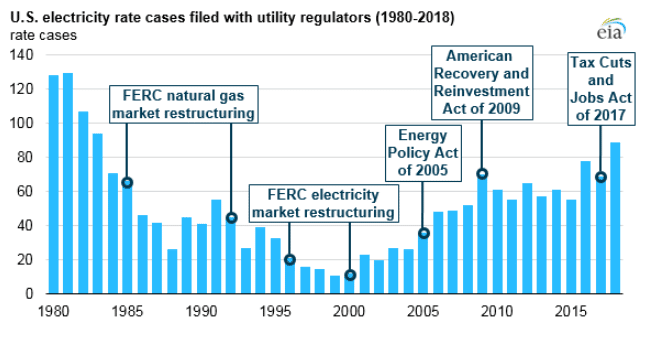 Last year, 89 utilities, representing nearly half of all major U.S. electric utilities, filed rate cases with state regulatory commissions, the largest number since 1983, according to a July 19 report from the U.S. Energy Information Administration. The aggregated value of utility-rate hike requests in 2018 was $6.8 billion, and regulators approved a total increase of $2.8 billion. Approved rate hikes were driven by spending in transmission and delivery, rather than generation, the agency said.
Power delivery expenses included grid modernization, integration of wind and solar, storm restoration, and installation of customer information and billing systems, while increases in generation spending were led by growing costs related to environmental compliance, operation and maintenance of nuclear plants, and wind generation expenses as federal tax credits phase out.

In the 1980s, electric rates saw rapid increases due to several events, including the 1970s oil crises that led to coal and nuclear investments; the Public Utility Regulatory Policies Act that encouraged utilities to buy power from small generators; and the Three Mile Island accident that raised nuclear plants' safety costs.

In the 1990s, the Federal Energy Regulatory Commission issued orders creating wholesale electricity markets, and some states established competitive access to retail electricity markets for non-utility suppliers; during the electric industry restructuring, there were very few rate cases as utilities did not invest much in infrastructure.

The Northeast blackout in 2003 encouraged federal legislation to focus on improving the grid, while damages from natural disasters such as the 2012 Hurricane Sandy led state regulators to promote utility grid investments.

The federal tax cut law that took effect on Jan. 1, 2018 lowered tax expenses for electric utilities offsetting some of the spending growth, which curbed revenue hikes and led to rate cuts and rate freeze.

Of the 89 utilities, 78 proposed rate increases, 10 proposed to decrease rates, and one negotiated a rate freeze until 2020.