Venture Global Wins U.S. Energy Department Approval to Export LNG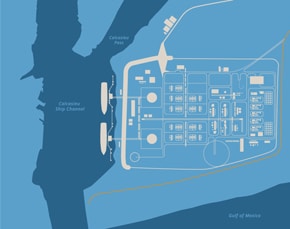 The U.S. Energy Department authorized Venture Global Calcasieu Pass LLC to export liquefied natural gas equivalent to 1.7 billion cubic feet per day from its proposed export facility in Cameron Parish, Louisiana to non-free trade agreement countries for a term of 20 years, according to a March 5 order. With this project, the agency has authorized almost 25 billion cubic feet per day of LNG exports. The U.S. is now in its third year as a net exporter of natural gas, shipping domestically produced LNG to 34 countries.
Last month, the company received approval from the Federal Energy Regulatory Commission to site and construct the project. The proposed export terminal, which would be constructed on an 828-acre site, is designed to have a capacity of 10 million metric tons per annum, with a peak achievable capacity of 12 million metric tons under optimal operating conditions. The facility would receive natural gas via TransCameron Pipeline LLC's proposed East Lateral pipeline, which has also received FERC approval. The 23.4 mile-pipeline would be able to provide up to 2,125,000 dekatherms per day of natural gas transportation service.
Calcasieu Pass and TransCameron are subsidiaries of Venture Global LNG Inc.
---
EnerKnol Pulses like this one are powered by the EnerKnol Platform—the first comprehensive database for real-time energy policy tracking. Sign up for a free trial below for access to key regulatory data and deep industry insights across the energy spectrum.
ACCESS FREE TRIAL