Widespread Power Outages from Winter Storms Draw Attention to Cold Weather Reliability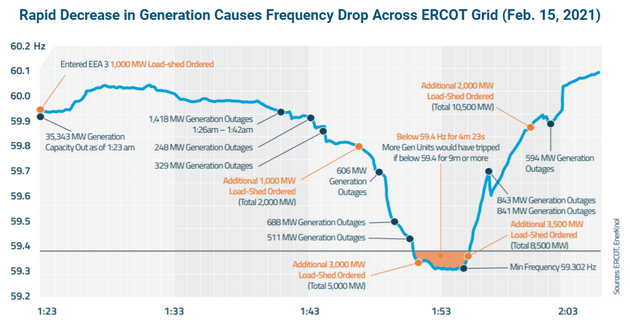 The mid-February Winter Storm Uri, which caused widespread power outages across the south-central U.S., has sharply brought cold weather reliability standards to the forefront of regulatory and market attention. Texas, which experienced the worst power outages resulting from the storm, has passed legislation and initiated investigations to address the impacts of the grid event. The Federal Energy Regulatory Commission (FERC) and the North American Electric Reliability Corporation (NERC) have announced a joint inquiry to identify the precise cause of the event.
On Feb. 15, the Electric Reliability Council of Texas Inc., the grid operator that manages about 90 percent of Texas' electric load, declared its  highest state of emergency due to exceptionally high electric demand caused by the cold weather and a shortage in supply due to many  generating  units  tripping offline and  becoming unavailable. The Texas grid was at one point less than 5 minutes from a potentially catastrophic collapse.
While 2021's Winter Storm Uri greatly highlighted the importance of preparedness and response to cold weather events, weatherization guidance has been evolving for a decade. Extreme cold weather conditions were major factors in grid events that occurred in 2011, 2014, and 2018.
In a report analyzing the 2018 storm, FERC and NERC staff concluded that the primary cause of the event was a failure to properly prepare or winterize generation facilities for cold temperatures and that natural gas supply issues were a major contributing factor. Similar analysis of the 2011 events revealed that while entities reported have winterization procedures, poor performance of many generating units and wells suggests that these procedures were either inadequate or were not properly followed.
Join us on August 19 at 1:00 PM Eastern for the upcoming EnerKnol Webinar: Cold Weather Reliability and dive deep into the last decade of cold weather events and the way they continue to shape the market today. This event is complimentary to EnerKnol customers and invited guests —if you haven't already, register now!
---
Enerknol Pulses like this one are powered by the Enerknol Platform the first comprehensive database for real-time energy policy tracking. Sign up for a free trial below for access to key regulatory data and deep industry insights across the energy spectrum.
ACCESS FREE TRIAL